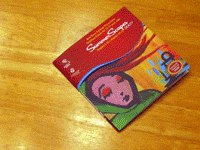 Working in a smaller market like Red Deer doesn't often garner a lot of design awards, but some of our recent work for Red Deer College has gotten some attention.
Red Deer College was awarded with five Medallion Awards from District 7 of the National Council for Marketing & Public Relations (NCMPR), recognizing excellence in college publications and marketing efforts. Of these five, we designed two.
We designed a logo for an alunmi event earlier this year called "Welcome Back Alumni" that had a retro seventies look, and it won a bronze medal for identity development, and the Summerscapes brochure we designed last year took silver. The brochure (pictured above) incorporated an intricate diecut and blank pages for art students to decorate.
Sonya was the lead designer on the logo, and I was the lead on the brochure. So it's good credit for the whole team!
Designing to win awards usually doesn't produce the most effective tools from a client's perspective (aka: the bottom line), so we usually don't worry about awards. That makes it that much more satisfying when our work does win. It's also nice to have clients who let us play once in a while and try new things.