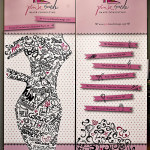 We recently completed two tradeshow banners for Pink Suede Imaging. They turned out so wonderful I felt the need to blog. Pink Suede is a service that assists women in the area of personal image. Think of them as the What Not to Wear of Red Deer. If Clint & Stacy came to pay a visit I think they would be rather pleased. An awesome  opportunity for central Alberta women to step-up their confidence.
The flirty design was a nice change of direction here at Redpoint. Especially because we were able to use a colour we don't often choose out of the swatch-book… PINK, and lots of it. With fashion on the brain we decided to create a look that women would be drawn to. We incorporated some girly illustration to play off the looseness of the logo – so much fun! I am a doodler at heart, so it was a delight to be able to create artwork for these banners.
The text creates a curvy female silhouette, which compliments the Pink Suede motto Inner Confidence, Outward Style quite nicely. The words within the image represent Pink Suede and highlight services. The pink scalloped header gives the illusion of a boutique window which ties in the polka-dot pattern in the background. We really wanted to push the detail by adding in illustrated icons and ribbons. The goal was to project a visually compelling piece that targets women specifically.
Check out the banners, and Pink Suede for yourself at the Bower Place Shopping Center on December 18, 19 & Boxing Day.